Tue., Sept. 2, 2014, 11:41 a.m.
Californian Dreamin' Of Sandpoint
In the American Spectator, conservative columnist Ben Stein writes: I have been going to Sandpoint since 1992 on a regular basis. In all of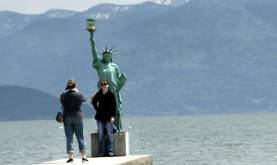 that time I have only had one person honk her horn at me and she had a Coeur d'Alene license plate. I have literally been too absent-minded to go through a green light in Sandpoint and yet the people behind me did not beep. In Beverly Hills or West Hollywood, if I even slow down at a stop sign, the people behind me beep and give me the finger. When I walk along the street in Sandpoint, every person, young, old, man, woman, boy, girl, smiles and says, "Hey, Ben." We're all family. In Los Angeles when I walk down the street, giant drunken hipsters will mow me down if I don't get out of their way. Don't get me wrong. Rockers are fine with me, but they do not have that homey Sandpoint touch, at least not to me. More here.
Question (for ex-Californians): Have you ever wanted to move back to the Golden State?
---
---