Tue., Sept. 2, 2014, 1:08 p.m.
Mudgy & Millie To Celebrate Birthday
How old are Mudgy Moose and Millie Mouse? No one knows for sure. What we do know is that they were born out of a love of books,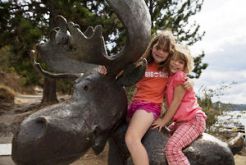 active living, public art and the community of Coeur d'Alene. Every year since 2008 their birthday has been celebrated at the Coeur d'Alene Public Library. "Mudgy & Millie" fans of all ages are invited to the party at 11 a.m., Saturday, Sept. 13 in the Community Room, 702 E. Front Ave. The book is the brainchild of children's author Susan Nipp -- nationally known as the co-creator of the Wee Sing books and music -- and was illustrated by Charles Reasoner. Nipp, who is a member of the Library Foundation Board, signed over all royalties from the sale of the book and related merchandise to the foundation/Coeur d'Alene Press. More here. (Coeur d'Alene Press Photo: Jordan Thielman, 8, and her sister Katie, 7, from Cottage Grove, Orgeon, pose for their family with Mudgy and Millie at Indepence Point in Coeur d'Alene Sunday)
Question: Have you ever taken the Mudgy & Millie tour of five statues, all around the town? Who with?
---
---