Tue., Sept. 2, 2014, 9:16 a.m.
New Chief To Be Sworn In Today
Lee R. White will be sworn in as Coeur d'Alene's chief of police during a ceremony at 4:30 p.m. today The public is welcome to attend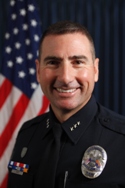 the event, which will take place at the police station, 3818 N. Schreiber Way, off Kathleen Avenue. "I'm thrilled that Lee White has accepted the position," said Coeur d'Alene Mayor Steve Widmyer. "He is a respected police officer with a high degree of integrity and proven leadership." White formerly served as assistant police chief in Mesa, Ariz. He was among a pool of 85 candidates from across the country who applied for the job. White's family and several members of the Mesa Police Department will attend the swearing-in ceremony/Coeur d'Alene Today. More here.
Question: What would you like to say to the new chief, if you had an opportunity to speak to him one-on-one?
---
---