Tue., Sept. 2, 2014, 8:50 a.m.
Sheriff Defends BearCat Purchase
Sheriff Ben Wolfinger explained the reason why his office purchased an expensive armored tactical vehicle when a nearby police agency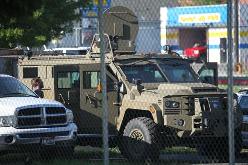 has a similar truck his department can borrow. The BearCat -- an acronym for Ballistic Engineered Armored Response Counter-Attack Truck - is a better fit for his department's planned use of the vehicle, Wolfinger said. On Tuesday, the BearCat arrived at the sheriff's office. Its $335,000 cost was paid with drug forfeiture funds. The Post Falls Police Department has its own ballistic vehicle, the MaxxPro Plus, which was obtained for free under a federal program. But it's the differences between the two vehicles, according to Wolfinger, that justify his office's decision to acquire the BearCat. "What Post Falls got was a military surplus vehicle," Wolfinger said Friday. "We looked at it (the MaxxPro Plus) and didn't think it met our needs. The BearCat is a civilian vehicle, made in America, that is built specifically for law enforcement agencies"/Keith Cousins, Press. More here. (File Photo by Duane Rasmussen, of BearCat parked at KCSO)
Thoughts?
---
---