Tue., Sept. 2, 2014, 2:39 p.m.
Tea Party Could Hurt Otter's Chances
Idaho's red state roots haven't faded, the AP reports, but political infighting inside its Republican Party has left many feeling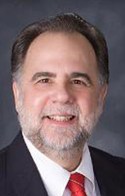 disenfranchised with the so-called traditional GOP candidates who will appear on this year's election ballot. Tea party voters, who showed to be a powerful voting bloc in the May GOP primary election, are threatening to stay home or vote for a Democratic candidate rather than vote for the Republican, writes AP reporter Kimberlee Kruesi, meaning GOP Gov. Butch Otter, who is seeking a third term, could face a tighter race against Democratic challenger A.J. Balukoff. Rep. Vito Barbieri (pictured), R-Dalton Gardens, said of Otter, "Voters are still very upset at the governor for abandoning previously articulated principles. They are very much in the mood to punish him in this election"/Betsy Russell, Eye on Boise. More here.
Question: Do you think the Tea Party is angry enough at Gov. Butch Otter that it would desert him?
---
---