Tue., Sept. 2, 2014, 10:34 a.m.
Torrid Summers Trending In INW
Heat, massive wildfires and violent thunderstorms: The summer of 2014 will be remembered for its intensity and disruption. Climate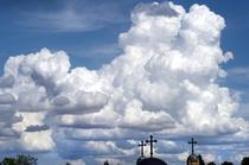 scientists say it is also a look into the future. Extreme temperatures and wildfires across the Pacific Northwest this summer are consistent with changes expected from global warming by the middle of this century, according to the 2013 report "Climate Change in the Northwest." "The warm conditions certainly are a harbinger of climate change," said assistant geography professor John Abatzoglou of the University of Idaho, one of more than two dozen regional scientists who participated in the report. In Spokane, the period from July 1 through Aug. 26 was the warmest on record/Mike Prager, SR. More here. (SR photo by Dan Pelle: Towering cumulonimbus clouds show along the Spokane skyline over Holy Trinity Greek Orthodox Church on Aug. 21)
Question: Would you want another summer like the one we just experienced?
---
---