Tue., Sept. 2, 2014, 2:43 p.m.
On The Waterfront — 9.2.14
McEuen Park continues to be a popular place, post-Labor Day. During my noon walk today, I counted 134 people in McEuen Park, with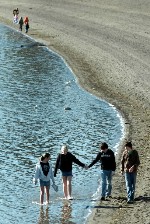 most of them -- parents and children -- hanging out at the playground/splash pad. The splash pad wasn't turned on. That compares to 21 people at City Beach and about that many on the sidewalk from Independence Point to West Lakeshore. About 12 children were playing at Fort Sherman Playground. The usual southerly wind was blowing off the lake, whipping up the waves and blowing the eight flags at Memorial Plaza at McEuen Park straight north. I counted only 4 boats on the lake, including two sailboats. The marshy area at the southwest corner of the park is filling in nicely with grass, now that the engineers have addressed the problem. I counted 10 bicyclists peddling along the waterfront. And two parking tickets under windshield wipers in the McEuen Park lot. I also noticed a home for sale along West Lakeshore Drive, west of Military. It's all yours for $2 million/DFO.
---
---