Wed., Sept. 3, 2014, 8:49 a.m.
Air Passengers To See More Conflict
Squeezed into tighter and tighter spaces, airline passengers appear to be rebelling, taking their frustrations out on other fliers. Three U.S.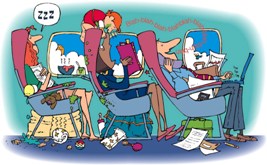 flights made unscheduled landings in the past eight days after passengers got into fights over the ability to recline their seats. Disputes over a tiny bit of personal space might seem petty, but for passengers whose knees are already banging into tray tables, every inch counts. "Seats are getting closer together," said Sara Nelson, president of the Association of Flight Attendants, which represents 60,000 flight attendants at 19 airlines. "We have to de-escalate conflict all the time." There are fights over overhead bin space, legroom and where to put winter coats/Associated Press. More here. (AP file illustration)
Question: Have you ever had problems with a fellow passenger on an airlines flight?
---
---