Wed., Sept. 3, 2014, 8:27 a.m.
Edit: Sorry To See Tourists Go
If you're glad those blasted tourists have finally dried up and blown away like pesky leaves, maybe you should hold off the celebration.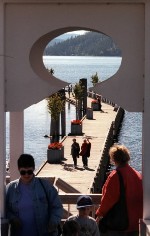 Granted, this pro-tourism opinion piece is written by a guy who works for a company that brings in millions of dollars every year through travelers to our gorgeous corner of the Earth. The Coeur d'Alene Resort, Best Western Plus Coeur d'Alene Inn, Coeur d'Alene Resort Golf Course, the Hagadone Event Center and a bunch of good restaurants all do nicely in luring visitors and their money to North Idaho, and all of them are part of The Hagadone Corp., which also owns this newspaper. Biased? Certainly, but this pro-tourism perspective is also based on research and plenty of personal experience. Tourism is an economic and social plus, and here are just a few of the reasons why/Coeur d'Alene Press. More here. (SR file photo, of Coeur d'Alene Resort Boardwalk)
Question: Are you sorry to see the tourists leave Coeur d'Alene? North Idaho?
---
---