Wed., Sept. 3, 2014, 4:36 p.m.
Enough Already Of — Organ Recital
What, exactly, is the dreaded Organ Recital? It's a monologue prompted by a seemingly innocent question – "So, what have you been up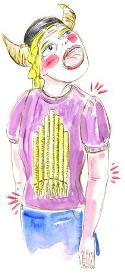 to lately?" – and it goes something like this: "Well, did I tell you about my colon? It can't handle gluten any more. And have you heard about my new stent? It's right here (pulls shirt collar down and points). And of course I still have my blood pressure issues but the doctor says the medicine is taking care of that. Lately, I've been having trouble with my hips, but I don't want to replace them until after I've healed up from my knee surgery. And then there's my bladder." (A forced smile) "Oh, interesting. But aside from that, do you have any fun plans this summer?" (Thinks a moment) "My colonoscopy is coming up. Polyps." In other words, the Organ Recital is that all-too-frequent monologue from those of us on the far side of 60/Jim Kershner, SR. More here.
Question: Heck, I'm on the far side of 60 & I don't want to hear about your body functions. Do you ever get trapped in these kinds of conversations? Do you ever start them?
---
---