Wed., Sept. 3, 2014, 3:28 p.m.
Otter Ad: Idaho 'On A Roll'
Idaho Gov. Butch Otter's new campaign commercial claims the state's economy is "on a roll" thanks to his leadership, citing several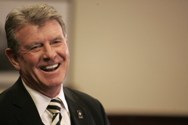 selected measures. But overall, Idaho's economy, while growing, has been much slower to recover than most states from the big recession that hit just after Otter took office in 2006. Idaho saw the third-biggest drop in employment from 2007 to 2014, according to the Pew Charitable Trusts' "Fiscal 50: State Trends and Analysis" report, a key measure of economic health. Its per-capita personal income ranked next-to-last in 2013, ahead of only Mississippi. Idaho's unemployment rate in July was 4.8 percent, ranking 13th among states, but unlike Pew's employment figures, that doesn't take into account those who have given up looking for jobs/Betsy Russell, Eye on Boise. More here.
Question: Idaho ... on a roll? Do you suppose Butch has Idaho mixed up with Iowa?
---
---