Thu., Sept. 4, 2014, 10:18 a.m.
Best 5 Prep Football Games This Fall
Greg Lee (pictured), the dean of Inland Northwest high school sports writers, picks the 5 best high school football games on tap this fall, including:
Coeur d'Alene vs. Ferris, Sept. 12, Albi Stadium: You don't have to be a diehard fan to know this is perhaps the one matchup many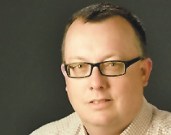 have wanted to see for the last four years. In that span, Ferris captured a state championship and Coeur d'Alene has earned three state titles and played in four straight finals. So when Greater Spokane League administrators decided to open up their schedules, this was the one game I wanted to see come together. Both Ferris coach Jim Sharkey and CdA coach Shawn Amos wanted this matchup. Sure enough, the Saxons and Vikings will finally face off. Neither team is as strong as it was at its respective peak in the last four years, but this should be an entertaining game nonetheless. More, including the other 4 games here.
Question: Do you plan to watch local high school football teams play this fall? Which team is your favorite?
---
---