On June 17, 2000, then SR CdA bureau reporter Winston Ross (pictured) wrote a story about the impact of a conflict-of-interest law re: Idaho cities hiring relatives of mayors of city council members. Here's part of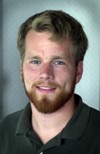 that report: "In Coeur d'Alene, Councilman Ron Edinger's daughter works for the city Parks Department. Paula Austin was hired 10 years ago, long after her father began a 30-year stint as a councilman and mayor. When asked about the conflict, Austin put a reporter on hold, never returned to the telephone, and then didn't answer subsequent calls. Edinger could be off the hook in this case, however. It's unclear what the nepotism laws were before 1990, when the current statute was enacted. `'When (Austin) was hired, I had nothing to do with that,' Edinger said. 'I didn't even know she applied. The fellow in charge of parks and rec at the time didn't know she was my daughter.' City Attorney Jeff Jones wouldn't comment on Edinger's situation, claiming it would violate attorney-client privilege." More here.
Back story:
Question: What did they know, and when did they know it?