Idaho Gov. Butch Otter and his staff visited with Boise State football coach Chris Petersen, pictured, during the summer, Otter said during Monday's "State of the State" speech. "We asked the Coach how he's been able to keep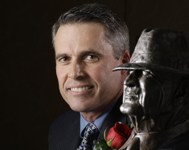 upgrading the Broncos' success on the field. We asked how he's been able to build a national reputation for excellence with what's considered limited resources by today's college football standards," Otter said late in his speech. "What I took away from his answer was this: FOCUS. Focus on the challenges at hand. Focus on leveraging your strengths. Focus on improving every day. Focus on what you can control. And focus on helping individual players understand how they can help achieve team goals while reaching their own academic and athletic potential …"/Dan Popkey, Idaho Statesman. More here.
Question: Do you think it's odd that Gov. Butch Otter & his staff would seek advice from Boise State football coach Chris Petersen?