She was eliminated from the competition Wednesday night, but the experience was intense,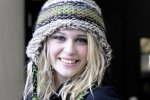 insane," said Flack, who was thrilled to have obtained a coveted final audition before the judges. Flack's journey to American Idol wasn't easy. She faced homelessness and the loss of both parents before age 16. After moving to North Idaho to live with her brother, she eventually was invited to live with the family of her best friend, fellow workmate, and wardrobe consultant, Kaitlynn Bye. The living situation has worked out well. "She's kind of wild and crazy and adds a lot of spice to the household," said Kaitlynn's father, Gary Bye, during an American Idol interview. And Flack knows she is lucky to have found the Byes. "They are extremely supportive and truly amazing people," she said of the family who dropped everything to drive all night when she called to say she had made it to a final interview with the judges/Mary Jane Honegger, Handle Extra. More here.
Question: Rose Flack is described by her host father as "wild and crazy," a teen who adds spice to the household. How would you describe the way you were as a teen?