Scientists report that a favorite food of many bears, nuts from whitebark pine cones, is scarce. So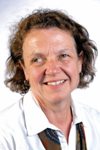 as grizzlies look to put on some major pounds in preparation for the long winter ahead, they will be looking for another source of protein - meat - and running into trouble along the way. Wildlife managers already report bears coming down off the mountains and into areas frequented by hunters, berry pickers and hikers. "Pack your bear spray," said grizzly researcher Chuck Schwartz with the U.S. Geological Survey. "There's going to be run-ins." The reason to lose weight? If bears are looking to make a meal of a human it stands to reason the fatter you are, the more bear cubs you would be able to feed. Any intelligent grizzly would know that one plump human is worth at least two skinny ones/Kathy Hedberg, Lewiston Tribune. More here.
Question: Have you ever carried bear spray while camping, hunting, or hiking in bear country? Or do you prefer a handgun?