The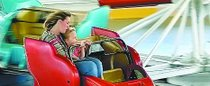 Tilt-A-Whirl at Riverfront Park started out mellow, just a gentle spin. No problem. Then, the spinning began in earnest. Screaming followed. Not from the mouths of my fellow riders – Reagan, 4, and Abby, 6 – but from me. Foiled again. Last summer, I rode the park's innocent-looking Berry Go Round and felt queasy for hours afterward. Every amusement-ride season I try once again to recapture the thrills remembered from the Jack Rabbit and Rock-O-Plane rides at the now-defunct Natatorium Park on Spokane's North Side. As a child, I rode them for hours. Now, it's once around in the Berry Go Round, and I'm done. I'm not alone/Becky Nappi, SR. More here.
Cutline: Lauri Robinson and her daughter Molly, 9, ride the Sizzler at Riverfront Park recently.
Question: Can you ride the scarier ones at the carnival or Silverwood? Or do you get motion sickness fairly easily?