Bill Cosby's job titles, over the last 50 years, have included comedian, actor, writer, producer and director. Yet during a phone interview last week, we asked Cosby if he considered himself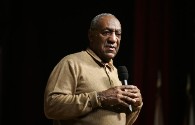 something a little meatier: an educator. "Yes," he said. "Period. Day one. From the classroom at Temple University to the coffeehouses in Greenwich Village in 1963, all the way through. Everything I have ever done through the TV set has to do with education." After all, Cosby is in fact Dr. William Cosby, having earned a doctorate in education in 1976 from the University of Massachusetts. Yet he also is one of the world's best known comedians, able to command audiences of millions because he never forgot rule No. 1: Be funny/Jim Kershner, SR. More here.
Question: Can you think of a comedian who is funnier than Bill Cosby?