I'm probably just behaving like a silly Danish senior citizen, but a reader offended me the other day. A fellow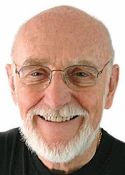 elder emailed me what he considered a joke about black people and brown people going to heaven where they stole the Pearly Gates.I was doubly irked, both because my children and grandchildren are part Mexican and because the careless jokester thought I was the sort of oddball who would enjoy a joke that paints my little peeps as thieves just because of what color they are. When I emailed the guy back and called him out on it, he asked me an allegedly naive question, one I frequently hear from people my age. Bear in mind, racist jokes were rampant during our childhood in the 1940s and 1950s/Bill Hall, Lewiston Tribune. More here.
Question: Do you ever call people out on tasteless jokes?