U.S. Congressman Raul Labrador told the Senate today that since he's been in Washington, D.C., "My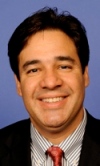 appreciation for the Idaho Legislature has only grown more." Addressing those lawmakers who are retiring this year, he said, "If you are anything like me, you will miss this place greatly. … I love working here because there is a true sense of duty that transcends party affiliation in the Idaho Legislature. This is not the case in Congress. … I have seen a sense of duty and service take a back seat to the goal of only scoring political points." Labrador said, "I enjoyed working with Democrats and Republicans in the Idaho Legislature. … You don't want Washington-style politics creeping into Idaho"/Betsy Russell, Eye On Boise. More here.
Question: Do you think the Democrats in the Idaho Legislature view the spirit of cooperation in the Capitol the same way as Labrador does?