Is "The Twilight Saga" beginning to lose its grip on movie fans? The latest installment of the vampire romance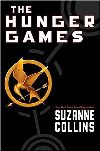 finished second to "Harry Potter" in a best of the year poll for MTV's Nextmovie.com, and trailed "The Hunger Games" as the most anticipated movie of 2012. What's more, "Twilight" stars Kristen Stewart and Robert Pattinson — whose characters Bella and Edward finally wed in "The Twilight Saga: Breaking Dawn-Part 1" — lost out as best on-screen couple to Emma Watson and Rupert Grint, who played Hermione Granger and Ron Weasley in "Harry Potter and the Deathly Hallows-Part 2"/Reuters. More here.
Question: "Hunger Games" and "Twilight" are both multi-book series. I've read them both. Ditto for C.S. Lewis' "Narnia," Stephen King's "Gunslinger," Larry McMurtry's "Lonesome Dove," and, of course, Tolkien's "The Lord of the Rings." Which is your favorite book series?