State Sen. John Goedde, R-Coeur d'Alene, has accrued a massive warchest in his three-way race to retain his Senate District 4 seat. Goedde had a warchest of $43,936, after recording another $15,450 in during the latest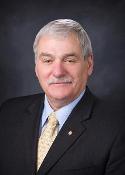 recording period for campaign finance reports. He has spent only $4,871 to date. Goedde filing here. Independent Jeremy Boggess (report here) has $2830 on hand, including $516 from latest filing period, while Democrat Warren A. Ducote Jr. doesn't have his report scanned on the Secretary of State's Web page. In the two House District 2 races: Republican newcomer Luke Malek (report here) had a warchest of $16,624, including $11,275 in donations from latest reporting period, while Democrat Janet Callen (report here) had a warchest of $5460 and spent $5133, and Constitutionalist Ray Writz (report here) raised $469 in latest reporting period. In the House District 4B race, state Rep. Kathy Sims, R-Coeur d'Alene, (report here) had a warchest of $11,873, including $7,806 raised during the latest recording period, and Democratic opponent Anne Nesse (report here) had a warchest of $6546, including $4,372 raised in latest recording period.
Question: Do you find anything interesting in the campaign finance reports for Legislative District 4?