Richard Phillips (pictured), who owns the Farm Fresh Fruit stand at 10 S. Argonne Road, recently paid a hefty fine for violating the terms of his temporary use permit last fall. It was one in a series of complaints that have been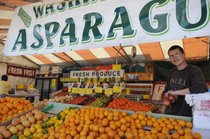 filed against the fruit stand, though Phillips places the blame for many of the complaints on a neighbor he has been feuding with for years. Phillips gets a temporary use permit every year, which allows him to operate his fruit stand for six months. City of Spokane Valley code enforcement officers noticed Phillips was still open on Sept. 3, after his permit had expired, and fined him $1,000. According to city records it was his fourth offense. On Sept. 13 he was still open and was fined again, this time for $5,000/Nina Culver, SR. More here.
Question: Where do you buy your fruit?