Hundreds of people filled the University of Idaho's Student Union Building ballroom Thursday night for a debate on whether gay rights are antithetical to conservative Christian values. Collegiate Reformed Fellowship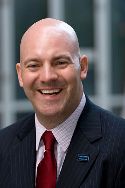 sponsored the nearly three-hour event where Douglas Wilson, controversial pastor of Christ Church in Moscow, debated R. Clark Cooper (pictured), executive director of Log Cabin Republicans in Washington, D.C. Cooper, openly gay, Episcopalian and Republican, maintained that being gay and being conservative are not mutually exclusive entities, while Wilson held that the homosexual lifestyle is in direct conflict with conservative Christian views.The debate was moderated by Gabriel Rench, a student at Greyfriars' Hall ministerial training program, where Wilson is an instructor. Rench said he resorted to moderating the debate after approaching others. The debaters argued on two different platforms, one based in politics and one based in theology/Estelle Gwinn, Moscow-Pullman Daily News. More here.
Question: Is being gay and being conservative mutually exclusive entities?