The first time Wes Anderson visited the Vietnam Veterans Memorial, it took him two hours to get close to it. The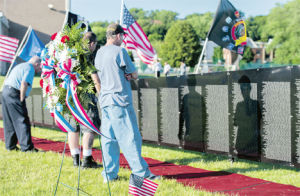 next and last time he visited the memorial in Washington, D.C., it wasn't as difficult for the local Vietnam War vet. "Each time it's a little easier to approach," said Anderson, who knew fellow vets who died during the war. Anderson is among the veterans who have assisted in bringing The Wall that Heals, a traveling Vietnam War memorial, and the Global War on Terror Wall of Remembrance to Hayden City Park Aug. 16-18. The Navy and Marine Corps vet keeps etchings bearing the names of his fallen comrades in a binder following his previous visits to the permanent memorial/Brian Walker, Coeur d'Alene Press. More here.
Question: Do you plan to visit the traveling walls at Hayden City Park next week?