Alternating between rage and anguish, I watch stupid, damned, poor, ignorant cretin devil Bambette (Bambi's sister) in the mirror. She's standing in the road, looking not much worse for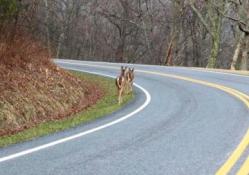 wear. I hope she's thinking, "Daaaamn that hurt," all the while knowing she's not thinking at all. Her walnut-sized, kidney-bean-shaped brain is only recording shock and pain and she doesn't have a clue that it's a miracle she is still standing. I haven't had a close encounter of the deer kind for a while, not counting the non-contact variety that invariably come from driving Highway 200 on a regular basis. Some nights, all I can do is drive 45 and try not to swear out loud, at which I never succeed. I've called deer the vilest names I've ever called anything. Stupid, blinking animals, anyway. Holy… ummm… crud/Sandy Compton, River Journal. More here.
Question: Have you ever hit a whitetail deer while driving? Near miss?