The Idaho State Department of Corrections (DOC) said 98 percent of inmates in the state prisons are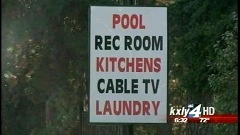 released back into the community. Those inmates all have to live somewhere. One option in north Idaho is for convicts to live in motels. The DOC supervises around 1,500 convicted felons in north Idaho. A majority of those people are in Kootenai County. Some of the inmates need help to get back on their feet when released from prison. "Part of their success is their stability of residence and that's a big factor," said Eric Kiehl with the Probation and Parole department. Kiehl said the DOC has an understanding with three motels in Coeur d'Alene that are willing to take in offenders/Anusha Roy, KXLY. More here w/video.
Question: Would you stay at a hotel that you knew housed former prison inmates?