Jack Buell, a Benewah County Commissioner and local businessman, was formally inducted into the Idaho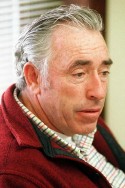 Hall of Fame early Wednesday. Mr. Buell was named to the hall earlier this year after being nominated for the honor by Freeman Duncan, a former Idaho legislator. Mr. Duncan made the induction presentation at the Timber Plus meeting Wednesday. Mr. Buell owns Jack Buell Trucking with his wife, Eleanor. He joins Vernon Baker, a Medal of Honor recipient, and Ernie Stensgar, former chairman of the Coeur d'Alene Tribe, as the third local resident named to the Idaho Hall of Fame. The organization recognizes Idahoans who have made significant contributions to their community and state. Other notable members of the Hall from northern Idaho Duane Hagadone, Pappy Boyington, Harry Magnuson and Louise Shadduck/St. Maries Gazette Record.
Question: Do you agree with the induction of Benewah County Commissioner Jack Buell into the Idaho Hall of Fame?