Assuming someone else's identity up to 30 hours a week isn't a normal curriculum for University of Idaho students, but it's been a large part of Lucas Tate's life since 2006. He retired from playing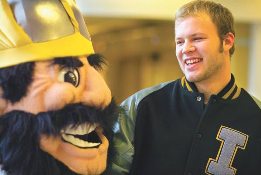 Joe Vandal, the UI's burly yet friendly mascot, this spring after three and a half years behind the mask. On Saturday, he'll graduate from the UI with a bachelor's degree in mathematics with an emphasis in actuarial science. Tate, 22, moved to Moscow from Kennewick, Wash., after graduating from high school in 2006. He was cheering from the stands during a UI women's basketball game that fall when representatives of the Cheer Squad approached to see if he would be interested in the mascot program. At about 6 feet, 2 inches tall, he was an ideal fit for the Joe Vandal suit/Holly Bowen, Moscow-Pullman Daily News. More here.

Question: Are you a Joe Vandal fan?