Sen. Joyce Broadsword, R-Sagle, welcomed her new colleague, Jim Rice of Caldwell, Friday with an apology: The first bill that the new senator would vote on was one that would terminate the state's end-stage renal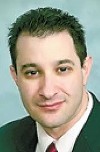 disease program. "It's not fair" that Rice's first vote would be one that could eliminate a government program, said Broadsword. Broadsword's apology is puzzling. The state's renal disease program is notorious. The Legislature's Office of Performance Evaluations said the Division of Vocational Rehabilitation had poorly managed the program, that more than $116,000 had been paid out to ineligible program participants. Another $49,000 went out to a dozen participants who were also enrolled in Medicaid. The Legislature's review of the agency found that program runs inconsistently among its staff and regions. However, congrats to Broadsword for sponsoring a bill that eliminates a government program that is so badly managed. Her bill passed unanimously/Wayne Hoffman, Idaho Freedom Foundation. More here.
Question: Do you consider most government programs to be extremely wasteful?