My 15 minutes of fame never happened. I was so close yet so far from appearing on "Hotel Hell." It wasn't surprising that my wife and I ended up on the cutting room floor. We're not confrontational enough. We clearly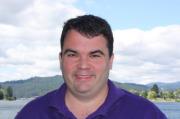 can't compete with the Roosevelt Inn's owners John and Tina Hough in the drama department. When word spread that Gordon Ramsay would be taping an episode of his new show, "Hotel Hell" in Coeur d'Alene and they were looking for people to be on the show, my wife Monique and I thought it would be fun to apply. I dashed off a quick email explaining that we had our rehearsal dinner at the Roosevelt Inn more than 10 years ago and that we're regular viewers of Ramsay's other shows. We both thought there was no way in "Hotel Hell" that we would be selected. We were wrong/Marc Stewart, Coeur d'Alene Press guest comment. More here.
Question: Have you used up any of your 15 minutes of fame? How?