Not long ago, my sister-in-law asked me a question that I hadn't considered. Was I planning to let my son, who was then 3, play football? The question struck me as overly cautious. Why wouldn't I? It won't break my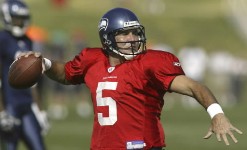 heart if he grows up with a wariness of the sports-worship that afflicts our culture, but if he wants to play, why not? After all, I played football – a little bit, very poorly – and look how well I turned out. You can get hurt doing all sorts of things. Then she gave me a few good reasons, involving the frequency of concussions, the frequency of repeated concussions, and the fact that frequent, repeated concussions can cause brain injury. The conversation came back to me this week when I read that Mark Rypien, local hero and Super Bowl MVP, was suing the National Football League for "repeated traumatic injuries to the head"/Shawn Vestal, SR. More here.
Question: Would you let your baby grow up to be a high school football player?