Via Facebook, Mary Marano post this reminder: "Let's remember together. The police and firefighters will place a wreath at the Fallen Heroes Memorial in back of the 15th Street Fire Station at 1:00 on September 11 in Coeur d'Alene, ID. Join me and others to join hands, support, unify and remember these brave souls and their families." I spent 15 minutes or so at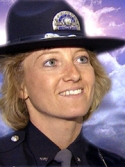 the memorial last Saturday, reading the names of the fallen Idaho police officers and firefighters, including some who were familiar, such as Linda Huff (pictured), the Idaho State trooper who was gunned down by Scott Yager, outside the regional ISP HQ in Hayden, June 17, 1998.  And USFS officer Brent Jacobson who was gunned down during a January 1989 snow storm in Bonner County, trying to catch two robbery suspects. But for the grace of God, former Coeur d'Alene police officer Mike Kralicek's name would be on the plaque's, too. If you haven't visited the memorial behind the 15th Street fire station, take time to do so. It's hallowed ground.
Question: Have you visited the Fallen Heroes Memorial?