Our Question of the Week last week asked whether the Montana Legislature deserved a thumbs-up or a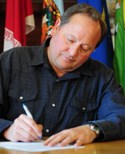 thumbs-down for its work in the recently completed session. In one of the more lopsided votes in the recent history of our unscientific online poll, 363 votes were tallied for a thumbs-down, while just 63 registered a thumbs-up. Several readers took time to share their thoughts on the session. Here's a sampling of what we heard: "This was one of the most dysfunctional legislative sessions I can recall, which is going some. Time and again the majority party sacrificed the welfare of the citizens of this state to the whims of radical tea party extremists. Montanans were fortunate to have a strong governor, who managed to derail at least some of the zany products of this session"/Missoulian. More here.
Question: Readers of Huckleberries Online and the Lewiston Tribune overwhelmingly gave the Idaho Legislature D's & F's for its 2011 session. But Montana has a governor that vetoed the excess of Tea Party legislators. Could Montana Gov. Brian Schweitzer be elected in Idaho?