Don Grady — who played one of the sons on the TV classic, "My Three Sons" — has died at the age of 68 … this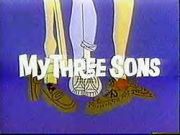 according to one of his co-stars. "Sons" star Barry Livingston just posted on Facebook, "My dear friend and TV brother Don Grady passed away today. He was an inspiration to me in so many ways." Grady had reportedly been suffering from cancer. Grady was an original Mouseketeer on the "Mickey Mouse Club" … before going on to play the role of Robbie Douglas on "My Three Sons" from 1960 to 1972/TMZ. More here.
Question: Feeling older?