NPR just posted "All Things Considered" story by Martin Kaste re: Tina Jacobson case vs. Linda Cook (pictured), including this excerpt from Yours Truly: "But Dave Oliveria, who runs Huckleberries Online, the Spokesman-Review blog where the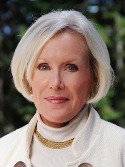 offending comment appeared, feels differently. "To have free speech in this community, I think you have to have anonymity," Oliveria argues. Huckleberries Online covers Coeur d'Alene and northern Idaho, small communities where there's a constant battle between the factions of the dominant Republican Party. "In this town, there's so much infighting, if some of these folks identified themselves, they couldn't make these comments," Oliveria says. "I have a lot of folks online here that are in a lot of key positions in the community." If his bosses at the Spokesman-Review required real names, he says, it would kill his blog — and deprive the community of a crucial forum. But Oliveria also admits he can only keep that discussion constructive by spending a lot of time monitoring it, and blocking the trolls. More here. Audio available at 4 p.m.
Question: Did I describe the political climate here accurately?