A beloved relic of Coeur d'Alene's past is coming home. The carousel that spun merriment and memories on the city's shoreline will be purchased and donated to the community by a couple in Eagle, Idaho. John and Pat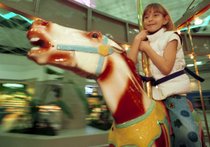 Foote, who plan to spend their summers in Coeur d'Alene, have agreed to pay $250,000 for the 20-horse machine that entertained children and families at Playland Pier from the 1940s to the 1970s. John Foote, 66, a retired real estate developer, said he decided to buy the old carousel sight unseen after reading a news article about it while visiting Coeur d'Alene over the holidays. "Isn't it more fun to see your money used for happiness rather than hoarding it? That's what this is all about," he said in a phone interview today. "It's time to give back"/Scott Maben, SR. More here.
Question: Where should the city of Coeur d'Alene locate this carousel?