Linda Beeman will be reading poems from her just-published chapbook celebrating the history of Wallace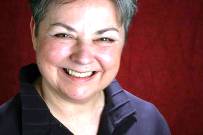 over the Father's Day weekend in Spokane, Coeur d'Alene and Wallace. Reading-signings are scheduled at 5 p.m. on Friday, June 14th at the Northern Pacific Depot Museum in Wallace, at 2 p.m. on Saturday, June 15, at Auntie's Bookstore in Spokane and at 1 p.m. on Sunday, June 16, at Hastings in Coeur d'Alene. According to reviewers, Beeman mixes the journalistic, historic and lyric to tell the story of a mythic, rough-and-tumble mining town that enriched the Inland Empire with its vast silver deposits. She writes about Wallace's early labor wars, the devastating 1910 fire that consumed the town, and a Sunshine Mine disaster that asphyxiated 91 miners. Interspersed with those dramatic events are quieter memories of a 1960s childhood. More here.
DFO: I've read Linda's poems. Very, very good.
Question: Do you enjoy poetry? Favorite poet?