Movember is upon us, beginning this Tuesday. No, NOT just November, MOvember, baby. In the US, in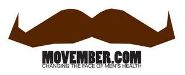 Europe and even down under in Australia. Mustache time, pardner…. to fight prostate cancer in men. In anticipation of last week's post of the 130th anniversary of the Earp brothers historic gunfight, I found myself inundated by mustaches from the 19th Century and Hollywood. Huge things. Huge hairy 'staches of Wyatt and Virgil and Morgan … as well as a pencil thin one from Doc Holliday. It caused me to reminisce. See, 35+ years ago I grew out "The 'stache that NEVER quit growing." And I kept it, for the most part/Dennis Mansfield. More here.
Question (for men): Have you ever worn a mustache? Or (for women): Do you like to see men wearing mustaches?