The Kootenai County Republican Central Committee is considering a resolution to create a "party purity"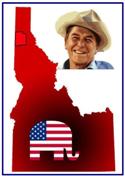 committee to purge the Kootenai Republican Party of those, it alone, deems insufficiently adherent to someone's narrow idea of conservatism. The best argument against this folly was outlined by our namesake, Ronald Reagan, in his ground breaking 1977 "New Republican Party" speech at the 4th Annual Conservative Political Action Committee Convention: "… If there is any ideological fanaticism in American political life, it is to be found among the enemies of freedom on the left or right — those who would sacrifice principle to theory, those who worship only the god of political, social and economic abstractions, ignoring the realities of everyday life. They are not conservatives." More here.
DFO: BTW, the Reagan Republicans have endorsed Coeur d'Alene mayoral candidate Mary Souza more than a month before the filing period begins for the city of Coeur d'Alene. Wonder how Jim Brannon feels about that?
Question: I predict that the Kootenai County Central Committee will pass the resolution before it tonight calling for an ad hoc screening committee for GOP primary candidates. How about you?