Texas Gov. Rick Perry (shown with wife, Anita, today in North Charleston, S.C.) is dropping out of the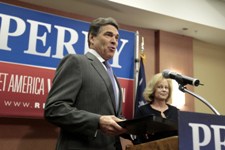 presidential race and will endorse Newt Gingrich, according to a campaign source. Perry, who trails GOP front-runner Mitt Romney badly and fared miserably in the Iowa caucuses and New Hampshire primary, is telling supporters he will drop his bid for the nomination. Perry has scheduled a news conference for 11 a.m in North Charleston, S.C. The Texas governor entered the race in August to much fanfare and immediately topped polls. But a series of disastrous debate performances, including one in which he failed to remember the three government agencies would shut down as president, left him behind the GOP pack/Alicia M. Cohn & Ian Swanson, The Hill. More here.
Question: Who will be next to drop out of GOP presidential race?