For 18 years, Republican Sen. John Andreason, pictured, represented the party's dwindling moderate wing, deflecting primary challenges from purists who called him a "Republican in Name Only," or RINO. Andreason's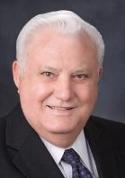 retirement … will decide whether Democrats expand their reach into the suburbs, offering prospects of long-term gains. As a result, it's Idaho's most expensive legislative race. Democrats nominated Betty Richardson, 59, Bill Clinton's appointee as U.S. attorney for Idaho. As Ada County Democratic chairwoman, she helped engineer her party's high-water mark in the Legislature in the last 50 years, the 21-21 Senate tie in 1990. Republicans chose another veteran pol. Fred Martin, 62, worked for Congressman George Hansen and on Boise city races that ended the "mall wars" in the 1980s, leading to construction of the Boise Towne Square/Dan Popkey, Idaho Statesman. More here.
Question: Which legislative race do you consider to be the best one North Idaho has to offer? Why?