If I wrote a "Cheers & Jeers" column, like Marty Trillhaase's in the Lewiston Tribune, I'd give jeers to the three North Idaho College trustee challengers endorsed by the county Reagan Republicans who missed the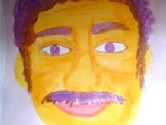 Kootenai County Democratic Club luncheon at noon today — Todd Banducci, Paul Matthews & Ron Nilson. Is it possible that all three have legitimate excuses not to attend this important forum — one of two scheduled this fall? (They were attending Kootenai County "Women In Red" luncheon featuring First Lady Lori Otter.) Are they afraid of Democrats? This underscores the notion that the Reagan Republicans have introduced a poisonous partisan element into these nonpartisan races. NIC trustees are suppose to represent all. The. College. District. Patrons — not just a subset of the local Kootenai County GOP. F'shame. And a H/T to the five candidates who attended, introduced themselves and provided their vision for the future of North Idaho College: Trustee Judy Meyer (Seat A), Trustee Mic Armon (Seat B), and Seat C challengers Fritz Widenhoff, Gary Coffman and Dean Haagenson. Two other challengers who failed to attend were James W. (Jim) Ruch and Vickie Ambrosetti.
Wiseguy: Nilson, Matthews and Banducci were at the Kootenai Republican Women's "Women in Red " Lunch at the CDA INN during the "debate." I suspect they would attend this event by an organization whose membership supports them (there was a Powerpoint display on their behalf) as opposed to an ambush by the Kootenai Democrat Party — who have already (before the debate) endorsed their opponents Meyer, Armon and Hagenson.
Question: Wiseguy points out that Nilson, Matthews & Banducci were at a Kootenai County GOP "Women In Red" luncheon. Is that more important than a debate featuring your challengers, including the incumbent trustees at a Democratic luncheon — one of two scheduled debates this fall?