Traveling in Ireland for the first time a few years ago I was struck by the fact that everyone – everywhere –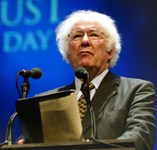 seemed to have a book under their arm or clutched in hand. Everyone it seemed was lost in words, heads in books. Crossing the Shannon on a car ferry the truck driver next to our rental car had a big volume propped up on the steering wheel. He had obviously taken in the lovely scenery before. Now his lovely book had his full attention, if only for a few minutes. One wonders why Ireland, a country with 4.5 million people, has produced so many of history's greatest men – yes, mostly men – of letters. Shaw and Joyce, Behan, Beckett and Oscar Wilde. Now another of the greatest – the poet and Nobel Laureate Shamus Heaney – the greatest Irish poet since the great William Butler Yeats is gone/Marc Johnson, The Johnson Report. More here.
Question: Who is your favorite Irish author or poet?