Sen. Joyce Broadsword, R-Sagle, says she's weighing her options, now that the new legislative redistricting plan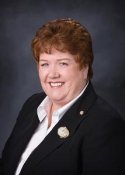 shifts her into a different district, where she wouldn't have to face ally Sen. Shawn Keough, R-Sandpoint, if she ran for another term. "I haven't had a chance to look at what the size of the district is or what it looks like," Broadsword said. "I have to look at all my options. I've been receiving a lot of encouragement to stay, to please run for the Senate again … so I just have to look at the whole picture." Under the new plan, L-93, Broadsword ends up in the new District 7, along with first-term incumbent Sen. Sheryl Nuxoll, R-Cottonwood. The previous district plan, L-87, put both Broadsword and Keough in District 1/Betsy Russell, Eye On Boise. More here.
Question: Should Joyce Broadsword run for re-election in the new far-flung District 7? Or is she too far away from the center of the new district to serve it effectively?