Sarah Palin received an unlikely gift from a famous admirer over the weekend: A pair of pink women's underwear. The underwear was from Maricopa County, Ariz. Sheriff Joe Arpaio, who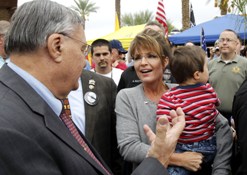 met the former Alaska governor at a Tea Party rally in Phoenix on Friday. Arpaio announced the gift on Twitter. "Just got done welcoming Sarah Palin to our County. Had a nice chat and gaver her a pair of pink underwear," he wrote. The gift isn't entirely out of left field. Arpaio has garnered national media attention for his controversial  methods of prisoner treatment, which he employs at the Maricopa County jail. Among them are restricting inmates to two meals a day, housing inmates outdoors, and requiring inmates to wear pink underwear/Christina Wilkie, The Hill. More here.
Cutline: Former GOP vice presidential candidate Sarah Palin, right, holds her son Trig Palin, as she talks with Maricopa County Sheriff Joe Arpaio, left, as Palin was the surprise guest at a Tea Party Express rally that drew about 1,000 people at the Arizona Capitol Friday in Phoenix. (AP Photo/Ross D. Franklin)

Question: Yeah, yeah, I know that Maricopa County, Ariz., Sheriff Joe Arpaio is famous for making inmate wear pink underwear. But is this an appropriate gift to give Sarah Palin?