Rep. Michele Bachmann (R-Minn.) joked in Florida this weekend that last week's earthquake and hurricane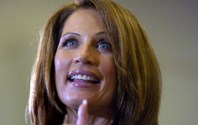 affecting the East Coast were signs from God, meant to grab lawmakers' attention. The Tea Party congresswoman, who took her campaign for president to the Sunshine State this weekend, joked about the case of those natural disasters during a stop in Sarasota. "I don't know how much God has to do to get the attention of the politicians. We've had an earthquake; we've had a hurricane. He said, 'Are you going to start listening to me here?'" she told the audience, per the St. Petersburg Times/Michael O'Brien, The Hill's Blog Briefing Room. More here.
Question: Does God use natural disasters to gain people's attention?