Is it a proper role for elected officials to spend part of their time interacting with members of the public via blogs, story comment sections, emails or other forms of internet age communications or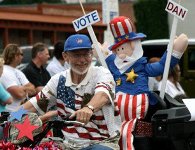 in just reading local and other on-line news items to keep abreast of current issues in the community and our broader world? I say yes and have practiced what I preach for some time now.  Early on I wondered how it might be perceived or if I was taking some kind of risk by doing it, and more importantly by letting anyone who cared, know that I spend a regular part of my time reading news at all levels, and in particular, communicating with the public in both directions.  The small amount of criticism I have gotten is very small indeed compared to the positive feedback I get from people who appreciate that I actually will try to interact with them, answer questions, and even take a stand one way or the other on things they might deem important/Dan of the County.
Question: Should elected officials take time to interact with the public on blogs, Twitter, Facebook, and other parts of the social network?