In case you were wondering what happened to my former CDA bureau colleague Taryn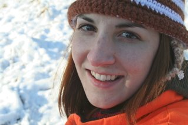 Hecker … I got this note from her today: "In addition to working at the youth center in the afternoons, I am opening up a photo studio and office in downtown Spirit Lake at 6147 Maine St. #8. I am offering affordable portraits. My introductory specials are $99 for senior portraits and $50 for family or children's portraits. All of my customers get a CD of the images, plus the copyright so they can print the images themselves and share with family and friends. I do weddings, too! I am also doing freelance writing, marketing and consulting work." You can check out Taryn's work here and here.
DFO: If you have a "Where Are They Now?" nominee, send me an e-mail with info about that person. It'd be fun to run those here.