Saying there are too many thrift stores in midtown is like saying there's too many shots of vodka in your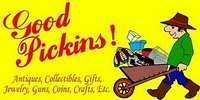 morning smoothie, so of course it's good news that Good Pickins (802 N. 4th Street) has opened for business near Capone's. Whenever I make my thrift rounds and can't find any treasures at a particular store, I always complain that the place was "totally picked", so hopefully the name of this place is a good omen. Looking at their facebook photos, I'm not betting on it. Yes, I'll give them a break since they just opened, but from what I can see, the place is pretty barren/OrangeTV, Get Out! North Idaho. More here.
Question: Which thrift store do you enjoy browsing most?